Description
Samsung Galaxy Buds 2 Pro | Purple
SM-R510NLVAEUA
Every note sounds like the real thing because clear audio starts at the source with your favourite Samsung Galaxy device. The updated Samsung Seamless Codec encodes the full 24-bit audio to decode on the Galaxy Buds2 Pro, maintaining that same 24-bit high-quality sound.
Active Noise Cancelling (ANC) is better than ever. With 3 high SNR (Signal-to-Noise Ratio) microphones, Galaxy Buds2 Pro track and eliminate more outside sound — even soft sounds like wind.
With Intelligent 360 Audio, the sound feels more realistic. The 360 Audio with Direct Multi-channel (5.1ch / 7.1ch / Dolby Atmos) and Enhanced Head Tracking make every movement stay in sync — creating an immersive experience. 360 Audio can even pinpoint the direction of the sound as you move your head, giving you the spatial experience. 
Galaxy Buds2 Pro will automatically pop up on your Samsung Galaxy devices and are ready to connect with a tap. As simple as that.
Auto Switch on Samsung Galaxy Buds2 Pro intelligently detects mobile activity and seamlessly shifts its connection to your Samsung Galaxy phone, tablet and watch.

Switching to answer the phone works even when you're connected to a Samsung TV. Once the Galaxy Buds2 Pro are connected to the Samsung TV via Bluetooth, there is no need to take the earbuds out to answer the phone. Incoming calls can be answered simply by tapping the Galaxy Buds2 Pro twice.
Worried about losing your Galaxy Buds2 Pro? Don't. With SmartThings Find, you can trace your coveted Galaxy Buds2 Pro with the location detection feature. You can even do it with or without the case.
Walk away from your Galaxy Buds2 Pro and the integrated alarm is ready to let you know — your phone will send you a notification so that you don't accidentally leave them behind.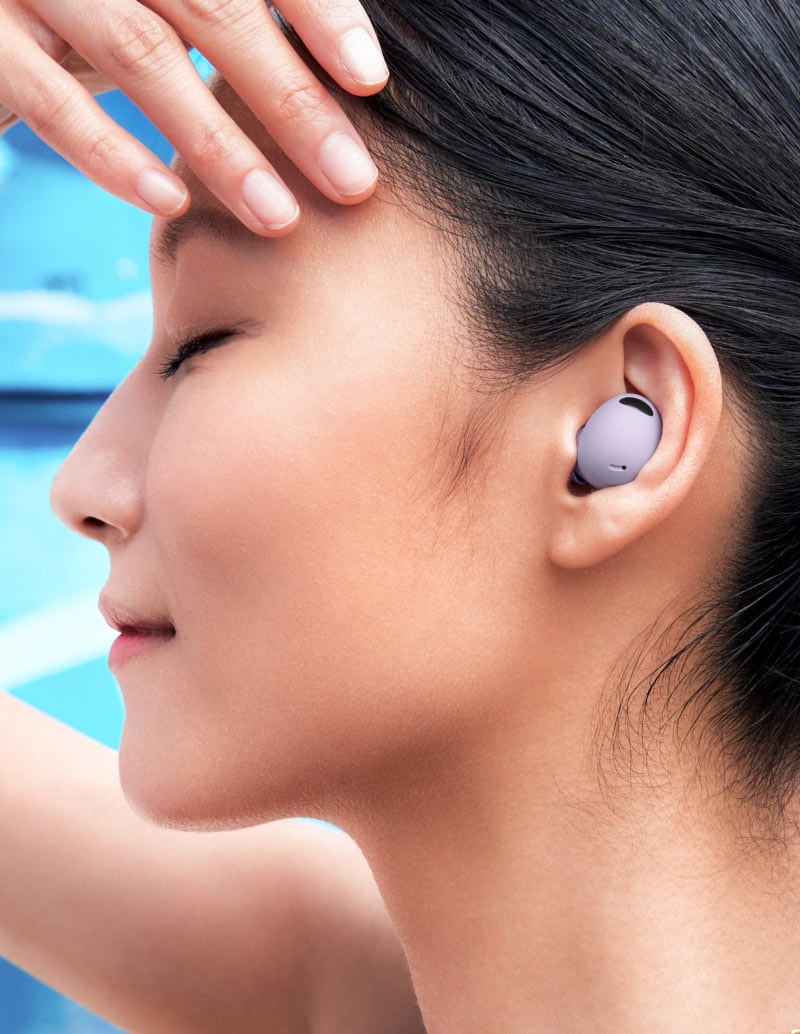 DELIVERY FEES & TIMESCALES
| Standard Shipping | Fee | Delivery Length |
| --- | --- | --- |
| Orders over €99 (Non-Bulky Items) | FREE | 3-5 business days |
| Orders under €99 (Non-Bulky Items) | €6.99 | 3-5 business days |
| Express Delivery for Non-Bulky Items | €9.99 | 2-3 business days |
Shipping per Item: For standard-sized deliveries that may take multiple parcels
| Items | Fee |
| --- | --- |
| 1 item | €6.99 |
| 2 items | €14.00 |
| 3 items | €21.00 |
| 4 Items | €28.00 |
| 5 items | €35.00 |
| 6 items | €42.00 |
| Note: Anything else will be charged the Bulky items rate. | |
| Local Delivery | Fee | Delivery Length |
| --- | --- | --- |
| Products within 25km | €6.99 | 3-5 business days |
| Large Bulky Items | Fee |
| --- | --- |
| Outside 20km | |
| - White Goods and Large Tvs | €29.99 |
| - All other Bulky Items | €49.99 |
| - Extra Bulky Items | €80 |
| Large Bulky Items inside 20km | Fee |
| --- | --- |
| - Large Bulky Items | €20.00 |
Bulky and Fragile Goods
Delivered to the nearest port for offshore islands.
Large Bulky Items and Large Appliances delivered by courier.
| - Large home appliances, Fridge freezers/Washing Machines/Dryers/cookers, etc. | 5-10 working days for nationwide delivery |
| - Note: Ensure old appliance is disconnected and outside premises ready for return. | Text notification before the day of delivery with an estimated time |
| - Drivers can only deliver to your doorstep and cannot enter your property. | Assistance required for large items. |
Click and Collect: FREE
How it works
Receive an email confirming your order.
Your order will be processed by our website team.
Receive an email confirming the date for collection.
Damaged and Faulty Goods
If your goods are damaged or faulty, we will replace the goods free of charge. If you do not want a replacement, delivery charges may be incurred to collect the item from you. Do not install any damaged items. This counts as acceptance of goods and the item is then non-returnable and non-refundable. Damaged goods must be reported within 48 hours of delivery, please contact us by emailing websales@beattys.ie or by phone on (091) 841403. In the event that goods are received in a damaged state please retain the product together with any packaging and contact us within 48 hours of receipt with photographic evidence. In the case of an item being faulty we may require an inspection by a manufacturer's qualified engineer to be carried out on the item in the location where it is installed. This is so the nature of the fault can be ascertained before we can arrange for a replacement.
All products leave our premises in perfect condition. The customer must notify the carrier (or postman) of even the slightest trace of damage (holes, signs of crushing, etc.) to the parcel, and refuse the package if necessary.
Unwanted Goods
Do not install or use any unwanted items. This counts as acceptance of goods and the item is then non-returnable and non-refundable. You have a statutory right to return unopened goods up to 14 days after receiving your order ("the cooling off period") and then a further 14 days to return the products. If you are not ordering a replacement, a charge may be incurred to collect the item from you. You must notify us of your wish to cancel within 14 days, starting the day after delivery. Please email websales@beattys.ie or phone (091) 841403 to advise.
You have the choice of returning the goods via your own means ( Beattys of Loughrea, Church Street, Loughrea, Co. Galway) or requesting that we collect them. If you request collection, we will collect the goods on the next available date that one of our delivery vehicles is in your area. You have a duty of care while the goods are in your possession and we reserve the right to charge you for any damage that may have occurred during this period.
We reserve the right to apply re-handling charges for returned items under some circumstances:
The goods received back are 'as new' but incomplete; i.e. missing components and/or accessories.
The returned products are missing their original packaging.
The cancellation was requested after the 14 day notification period.
 We do not accept returns and will not provide refunds under the following circumstances:
The goods you wish to return are in any condition other than 'as new'.
The goods have been installed and/or used.
Cables have been cut or terminated.
Refunds will be reimbursed within 30 working days of the cancellation date.
Payment & Security
Your payment information is processed securely. We do not store credit card details nor have access to your credit card information.